PROFESSIONAL CUSTOM WRITTEN SUMMARIES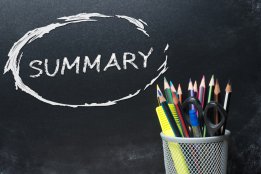 The process of summarizing long works is a very old one, and ancient Greeks even had a name for it: epitomizing. In many cases, the epitomes became more popular than the original works, and all that remains are the short summaries. Save time and effort when you hire a writing service to provide an abstract, executive summary, or condensed version of a piece of writing you need to be summarized. Whether you need a summary to use as an abstract for your own work or as an annotation for a bibliography or even for your own research, our experts can help you with your paper, project, or proposal by providing a short but thorough listing of the main ideas of whatever you need summarized.
ENTRUST US WITH YOUR SUMMARY ASSIGNMENT NOW
Reason #1. We never plagiarize. Our service provides a completely custom written summary and will never reuse a published abstract or borrow text from the writing to be summarized.
Reason #2. We never forget about the paper's key goal. Each summary is completely original and geared to the specific purpose you need it produced for. That means that we approach an abstract differently than an annotated bibliography summary or a book summary. Some types of summary require reflective analysis, while others do not.
Reason #3. We work only with expert authors. Our professional writers will follow your instructions and deliver your paper in the format that you request, such as APA/MLA format.
Reason #4. We are always on time. You can count on our help even if the deadline for your summary paper is scarily close.
Reason #5. We offer affordable assistance. Our key goal is to maintain the balance between the cheap prices and the best quality. Try us, and you will know that this balance is truly possible in the academic writing field.
TYPES OF SUMMARIES
We have expert writers trained in all of the major types of summaries:
Book Summary. It provides a report about the contents of the book. It will list the main ideas, including the introduction and the conclusion. A nonfiction book summary will explain the book's major lines of evidence and primary conclusions. A fiction book summary will outline the plot, describe the characters, and report the ending of the book. When you hire a book summary helper, you will receive the professional insight of someone who has read the book so you don't have to. A book summary can show you the most important parts of the book so you don't have to read the irrelevant sections.
Research Summary. It is similar to the abstract of a dissertation and will explain the research problem, methodology, results, and conclusion in an abbreviated form. A research summary is often an important component of a formal presentation and serves as the primary way that the presenter conveys the results of research to an audience that has not yet read the resulting paper.
Article Summary. It provides an overview of a shorter piece of writing, whether it be an article from a newspaper, a magazine, or an academic journal. An article summary is often produced for two primary purposes: As an entry in an annotated bibliography to aid in the research process, or as an abstract for indexing in a database. This type of writing is also a frequent assignment given to students to ensure they have read the assigned readings.
Executive Summary. It is what business people call an abstract, and it is typically a 1-page summary of a business report. It takes its name from the fact that executives don't like to read long reports and use these summaries to decide what is important enough to read. The executive summary is often somewhat longer than an academic abstract and offers a bit more detail.
WHAT WE CAN DO FOR YOU
When you place your order through our website, our writers will immediately begin reading the material that you need summarized. Our experts will summarize any book, article, dissertation, or report, and the resulting summaries will always be good examples of how to take a lengthy piece of writing and condense it to its key elements. That's because our writers are academic experts with advanced degrees in their field. By holding a Master's, MBA, or PhD, our writers can apply the analytical skills they learned in school to the process of boiling down complex documents into single paragraphs or single pages. You can choose different options for paying for your paper, you can also decide on how you would like to receive your final draft — in one piece or step by step. Use our Progressive Delivery option if you want to pay in installments. Keep in mind, that we ensure full access to the assigned writer which you can use to make sure the paper is written just the way you want it to be.
THE BENEFITS OF PROFESSIONAL SUMMARIZATION
When you order a professional summary, you aren't just getting a well-written distillation of the writing you need summarized. You also receive the benefits of professional help:
Satisfaction Guaranteed. Not all summaries are created equal, and that's why we work hard to meet your specific requirements and instructions. We want every summary we produce to be beneficial and a good model for you, and we take pride in meeting your requirements. If we missed any requirement, we will revise your summary for free for any qualifying reason.
Prices Starting at $12/page. Summarizing can be a time-consuming process, but we want to save you money in addition to time. With affordable prices, we make it easy to add professional summarizing to your lifestyle. Our prices are keyed to the complexity and level of the material to be summarized so you never have to pay more than necessary for top quality work.
Discounts Are Available. We make it easy to save with great discounts. The more summaries you order, the less you pay per summary. Contact us to learn about our current discounts and incentives for repeat customers.